You already know what a HUGE difference being thin will make in your life . . .
But the sad truth is, people have been dropping weight for decades and feeling good about it. Then gaining it all right back. In fact, statistics prove that a whopping 95% put the weight back on. Why? It could be a vacation. A stressful event. Or just boredom. They're simply not equipped to deal in an ongoing way with the emotions that lead to overeating.
The frustration ends today!
The Scale Conspiracy is a precise, step-by-step road map that will help you end binge eating to achieve a sleek, attractive physique. You'll do this by recognizing the three distinct different kinds of "bad" eating – habitual, emotional, and self-defeating eating – and eliminating whichever one(s) you're doing.
As you quickly consume this easy-to-read book, you'll understand immediately how to get a handle on these three forms of "bad" eating. You'll find that you will eat everything you really want, but amazed to learn that you'll fill up on flavor and taste and consume far less in quantity than you ever dreamed possible.
You'll be able to stop your overeating in its tracks, and watch the weight drop off painlessly!
An emotional subject

Emotions have been with man from the beginning, yet little is known about how to effectively deal with them. In fact, rather than knowing how to handle emotions, most of us have learned how to avoid uncomfortable emotions, or pretend that they simply aren't there.
This being the case, it only makes sense that food becomes a pacifier. In order to successfully experience weight loss motivation, you must find a way of handling your unique set of emotions that cause you to eat. For some that means learning to handle disappointment; others happiness, frustration, boredom, depression, or some other emotion.
It's just not enough to follow the old advice and try to control the stress that causes emotion.
If you're thinking, "But I've read a dozen of these 'get excited and lose weight' books before," and have been on million diets, think again!
Most programs to help people lose weight take the wrong approach!
Here are some of the mistakes they make:
• Treating all bad eating habits the same way, not realizing that there are three distinct types; each must be addressed differently. 
• Attempting to deal with the stressor that causes the emotion rather than the emotion itself (a huge difference in approach). In fact, dealing wit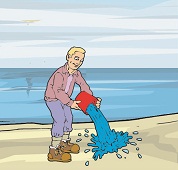 h the stressors that result in emotions is like trying to empty the ocean with a bucket.
• Making the overweight person feel guilty and "less than."
• Never focusing on the building of true self esteem, but instead linking self esteem with weight.
• Never providing methods of dealing with self sabotage.
• Telling you that won't desire food, won't want desert, won't be hungry, or will enjoy your diet.
• Telling you that sticking to your diet will give you great pleasure.
• Telling you to ward off temptation with advice from the 70's – such as, when you feel hungry:

- Take a walk
- Call a friend
- Listen to music
- Drink lots of water
- Exercise
You'll shed weight and keep it off when you learn about which kind(s) of eater you are:
• A habitual eater who eats out of habit.
• An emotional eater who uses food to deal with depression, boredom, frustration, etc.
• A self-defeating eater who is afraid of not living up to his/her expectations, and uses food to dilute those fears rather than face them.